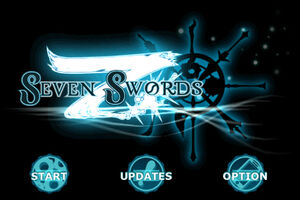 Welcome to the Wiki
Edit
Welcome to the Seven Swords wiki. This wiki was created for the simple reason that anybody who was interested in the game couldn't find really anything about the game apart from a few scattered forum posts and the Facebook page. Because most of us are not willing to find all the information we created our own wiki for Seven Swords.
Have any comments, suggestions, or ideas for a new topic on this wiki? Feel free to inbox me on my Facebook at: Princess Aurora <- A dead account I presume, in any case if you want the nostalgic feeling, I myself decided to rip apart the game and get the sound tracks found here under the channel Vengeance, hope you enjoy.
Describe your topic
Edit
Seven Swords is a Free to Play MMORPG available for the iPhone. It is supported by microtransactions available in-game through the Seven Swords shop. The main focus of the game is the large scale battles fought for control over each territory. These battles can involve up to 120 players among the three factions.
For more information visit The Game page.
Latest activity did seven swords shut down for good???yes it did FOR GOOD!!!!
Edit